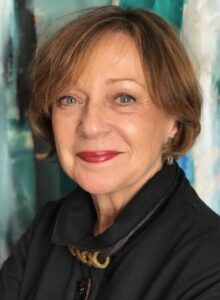 Bio
Agnes was born and raised in Budapest, Hungary, during the Soviet occupation. The only child of divorced parents, she displayed artistic talent and from an early age began taking formal art classes. In her late teens she defected from Hungary and after a short stay in Montreal, Canada, she moved to New York City, where she eventually got her US citizenship.
In her artistic development, the transformative moment came shortly after arriving in New York City (not knowing English yet). She attended the Arts Students' League and was exposed for the first time in her life to Abstract and Figurative Expressionism.
Agnes's enthusiasm for spontaneous artistic expression, free use of color and aesthetics only grew when she got a scholarship to attend the League's Woodstock campus — where she met some of the most prominent artists of the time.
Her passion for figurative work was further encouraged by the progressive artistic environment at The State University of New York at New Paltz, where she received her BFA with honors. To this day her work reflects those influences and visual concepts.
Since graduating she has been working as a professional artist and designer. To provide life's necessities she worked as a freelance textile and interior designer. For her design businesses she traveled extensively in the States, in Asia and Europe for many years, but all the while she was painting and exhibiting whenever she could.
Over the years, she has had numerous solo shows and participated in group shows in local and regional galleries as well as in other states, in Canada and in Hungary.
Her paintings and drawings are in many private and corporate collections. Currently she is represented by galleries in North Carolina and Virginia.
Agnes now dedicates her entire time to painting and when she is not doing that, she travels with her husband. They live in Greensboro, NC.